School Bag and Uniform Distribution Project
Information about the proposed project
Since its establishment, the association has worked in many public and private educational projects, as it has implemented various educational projects to serve orphan and needy students, and on top of these projects is the seasonal educational project for the distribution of school bags, stationery and school uniforms, which is implemented every year to alleviate the suffering of needy students. It targeted thousands of students. The association also implements many other educational projects that alleviate the suffering of students and their families.
The association has acquired a great deal of experience in this field, and this in turn plays a major role in the success of the current project.
Project Introduction
Due to the difficult economic conditions that the Gaza Strip is going through, many poor families are unable to meet their daily needs, and it has become difficult for them to meet the educational needs of their children who are students, they are in dire need to obtain these various needs, and among the basic needs that cannot be met. Students dispense with the school bag, stationery and school uniform.
Through this project, work will be carried out for distributing  school bag, stationery and school uniform school supplies for students in all areas of the Gaza Strip, by handing them their educational needs such as bag, stationery and school uniform. Beneficiary students from the primary and preparatory stages will be selected from poor and orphaned students who are in dire need of their assistance and support for their education.
Problem and justifications
Among the most important justifications that prompted the proposal of such project:
The difficult economic conditions that our Palestinian people are experiencing, including siege and unemployment, which has led to an increase in the economic suffering of thousands of families.
Thousands of families have lost their source of livelihood or the assistance they receive from charities and social affairs for a long time
Lack of or interruption of assistance provided to them, especially in the educational field, where the needs to provide all the needs of students, and inability to do this and this increases their suffering.
School supplies for students are an urgent necessity, especially for poor students and orphans, in light of an urgent need imposed by economic and social conditions, because the spread of unemployment and the lack of necessary needs for them threatens their continuation in the educational process.
Project objectives and outputs
General objective
Improving the educational situation of poor, needy and orphan students in the Gaza Strip through the distribution of school bags and uniforms
Expected Special Objectives
Providing school supplies (bag, stationery, and school uniform) for 1,000 poor, needy and orphans in all areas of the Gaza Strip.
Contribute to bringing joy, happiness and smiles to thousands of Palestinian students.
Helping the poor and needy families by supporting their students by providing their educational requirements.
Contribute to improving the educational sector in the Gaza Strip.
Alleviating the suffering of the Palestinian people in the Gaza Strip and supporting their steadfastness.
Project Budget:
| | | | | |
| --- | --- | --- | --- | --- |
| Total cost ($) | Total number of units | Unit cost ($) | Item | No. |
| 6,500 | 500 | 13 | School bag (primary – prep school) | 1.              |
| 4,000 | 500 | 8 | Stationery | 2.              |
| 13,250 | 500 | 26.5 | School uniform | 3.              |
Conclusion
In conclusion, Palestinian Orphan Home Association extends its thanks and great gratitude to you for the your great support that  you provide to the Palestinian people in particular and to humanity in general, wishing you to continue giving shaded by Allah's help and satisfaction in order to draw a smile on the deprived lips.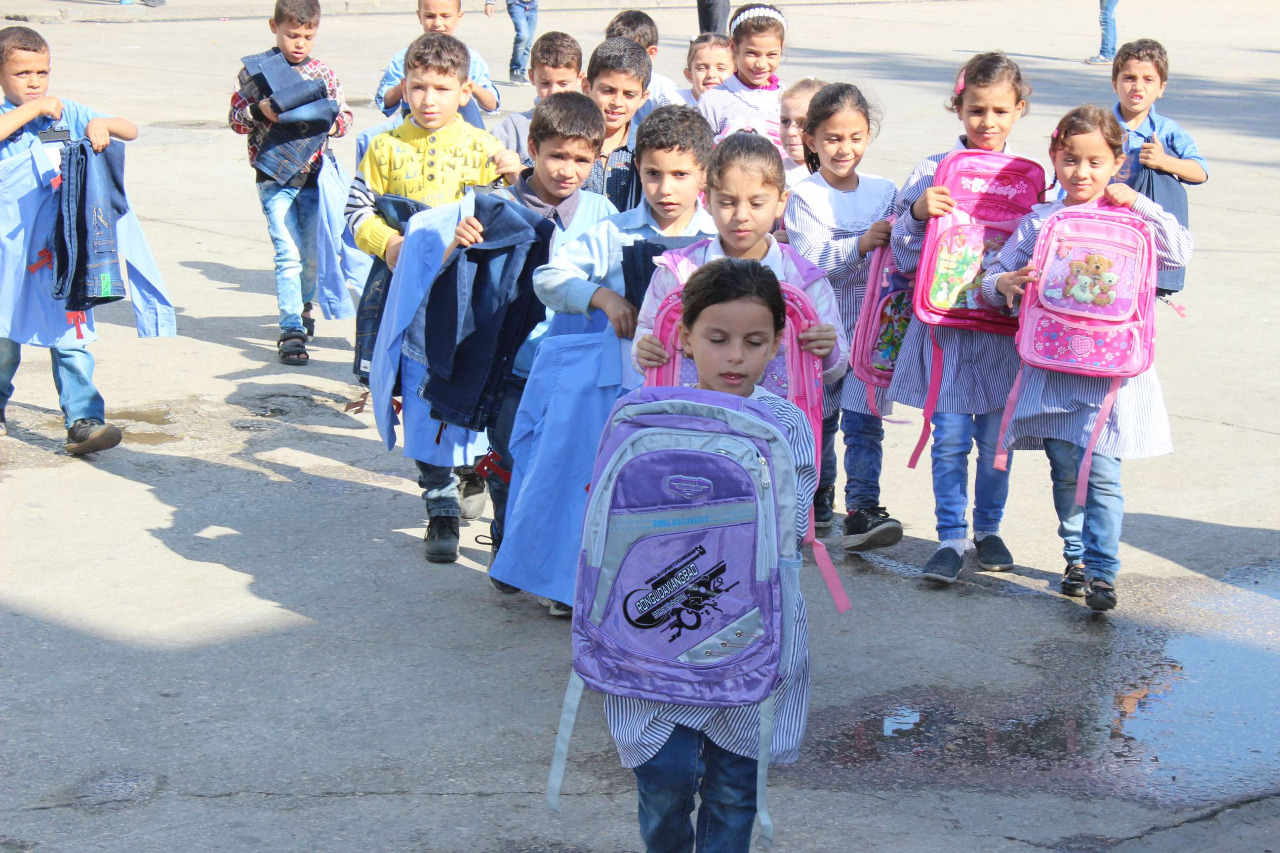 Palestinian Orphan Home Association